Nursing is not just a profession, it is the glue that holds a patient and his health together.  Nurses labor relentlessly throughout the patient experience, and wherever there is someone in need of care, it is a nurse's duty to identify and defend the individual's needs.
Beyond the compassion and dedication, nursing is a specialized profession that is constantly growing to meet society's demands.   Nurses assure the most accurate diagnoses to patients and educate the public about critical health issues. The society needs nurses because they protect public health with a specific strength, passion and expertise.
Since healthcare is one of Australia's fastest expanding employment areas, demand for healthcare services are constantly on the rise. On top of that, nursing is a steady and satisfying job, so it's no surprise that it's in high demand.
Australian universities are well known around the world for their nursing education programs.  Australia is reputed for  having  11 of the top 50 nursing institutes in the world in 2019, and that reputation has stayed relevant. Through these institutions, you can follow several nursing pathways for Australia, and it is rather simple.
Many private and public colleges have diploma programs and almost all universities host Bachelors and Masters programs for nursing, and if you are an international student, an IELTS score of a 7 is generally considered good for any related field.
Nursing studies cover a wide range of topics including assisting patients during tough moments in their life. Compassion, good communication, and theoretical and practical medical knowledge are all essential traits for a nurse.
You can follow pathways for either enrolled or registered nurses, and the names are rather self explanatory. Enrolled nurses gain basic knowledge of nursing, and nurses who have gotten a diploma in the field. Registered nurses are qualified nursing graduates and have a greater scope of operations, and are likely to get favorable opportunities.
And yes you would have to do placement as part of both the Diploma and Bachelor programs. Generally speaking, you would do at least 400 hours of placement with the Diploma program and over 800 hours of placement with the Bachelors program.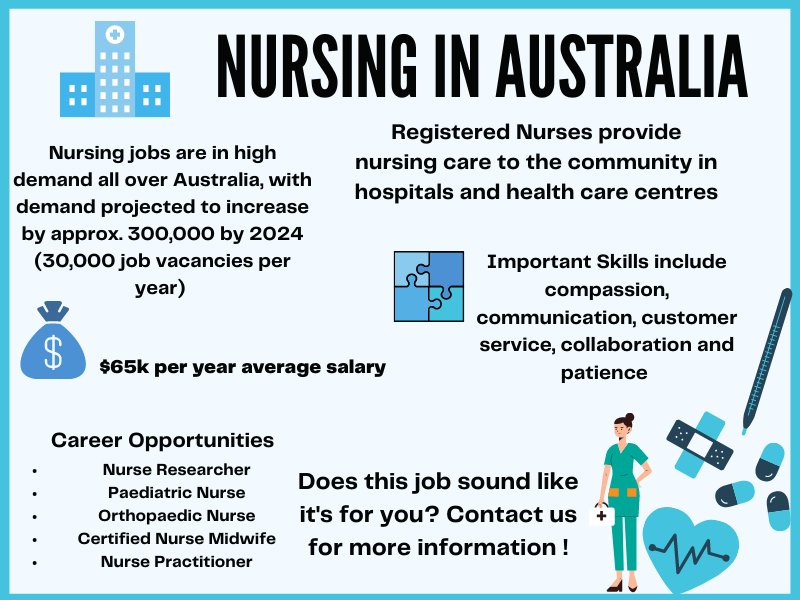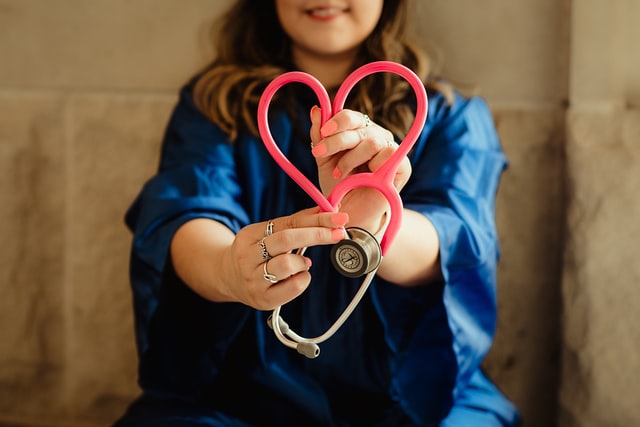 You can join the AHPRA, Australia's nursing professional body, after completing your nursing degree. A nursing degree is deemed rather stable, because it has many specifications, meaning many fields in which you can participate. And specific to Australia, a lot of nursing jobs are in the Skilled Migration List.
You can be a Nurse Practitioner, Nurse Educator or a Registered Nurse in many practices such as Aged Care, Community Health, Critical Care, Mental Health and Pharmacy. Further, nursing as a career is such a catch because it provides you with the possibility to network with other professionals and many job opportunities.
It also pays well, with nursing jobs averaging about $65,000 annually. Nursing is an important occupation all across the world, and is flexible. Meaning your skills are transferable to anywhere in the world in that specific field of work.
Also, nursing helps develop key characteristics like service, compassion, patience, collaboration and leadership in a person. It is a well rounded skill and with a ever-growing demand of the field in several countries including Australia, the skill will always be necessary.
If you want to, you can even consider applying for a PR in Australia ( Permanent Residency ) since nursing is considered to be one of the safest PR landing skilled occupation in Australia. So, nursing is not just a good career choice, it is a good life decision for Australia !
Among the many bachelors available in various universities around Australia, Curtin is one of the best ! Check out Curtin's Bachelor of Nursing program.
Are you interested in this course? Want to study Bachelor in Nursing or Public Health in Australia? Contact us !!