The International English Language Testing System (IELTS) is designed to help you work, study or migrate to a country where English is the native language. This includes countries such as Australia, Canada, New Zealand, the UK and USA. Your ability to listen, read, write and speak in English will be assessed during the test graded on a scale of 1-9. The British Council is responsible for taking the IELTS exams, which happen atleast once a week every month.
The IELTS exam is important if you wish to go for work or studies in countries like Australia, UK, New Zealand, Canada and USA since your IELTS scores are also assessed in your visa process . It is the only English Proficiency Test approved by the UK Immigration Department and is essential even for the Australian Immigration Process. To get into an English speaking country AND its university, you will need to show a good understanding and a strong command of the English language which is why your overall IELTS scores are so important. It is also essential for job opportunities as well as integration into the community. IELTS is also the most popular test for those looking to migrate to Australia, Canada, New Zealand and the UK since it is globally recognized by businesses, universities, schools and immigration bodies including 3,400 institutions in the USA. So, as an International student wanting to go to Australia, a good IELTS score WILL assure a good rapport in your visa and will secure your spot in an university.
IELTS Exam Pattern
It is important for candidates looking to score well in their IELTS Test to understand the IELTS Exam Pattern and Syllabus in detail. IELTS Syllabus includes four sections, Reading, Listening, Speaking, and Writing. You get marked on these four sections and you get the IELTS total score as well. The total score is the sum of the scores in the four skill areas. The total test duration is 2 hours and 45 minutes.
The IELTS Exam Pattern is similar to that of other English Proficiency Tests, divided into four sections and marked individually from 0 to 9. The test lasts for 2 hours and 45 minutes and each section is given a certain amount of time. Check the diagram below to know more about the IELTS Exam Pattern.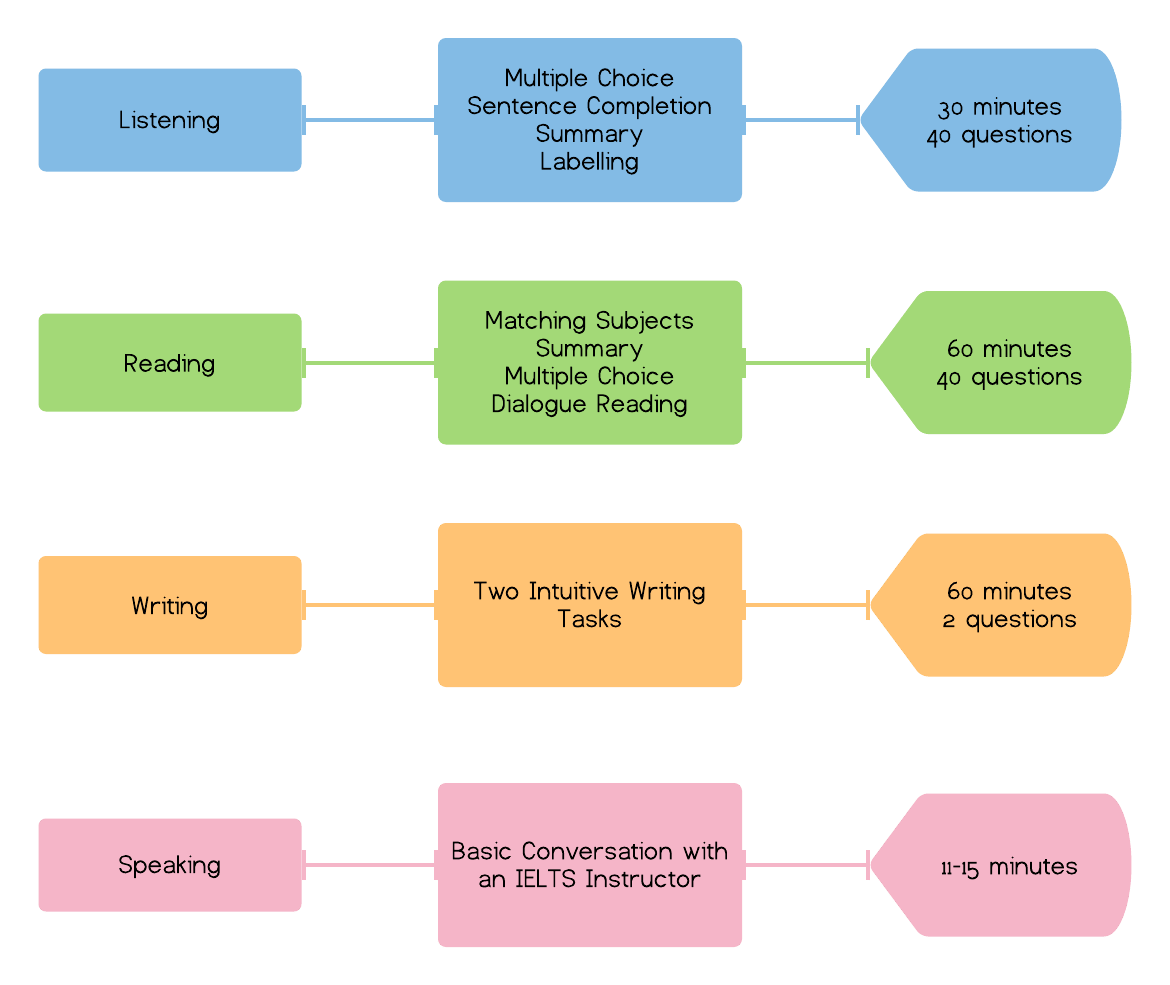 Types of IELTS
There are two types of IELTS exams, namely IELTS ACADEMIC and IELTS GENERAL TRAINING. They are kind of the same in general terms, but the subject matter for the writing and reading sections differ depending on the tests taken. The Speaking section can be completed either a week before or after the other tests are done, and these dates are assigned by your test center itself.
IELTS Academic Test:
IELTS Academic is taken by those who apply for higher education or professional registration abroad.
IELTS General Test :
IELTS General Test is taken by those who wish to migrate to major English speaking countries like Canada, Australia, and the UK. This test is also taken by those who want to gain work experience in a country where English is the main language used for communication.
IELTS or TOEFL, Is One better than the Other?
International students are often confused between choosing IELTS or TOEFL, as universities abroad ask for either exam scores. It is up to you as a test taker to decide which of the two exams to take since both exams have the same purpose – to judge your English Proficiency, but remember that the IELTS is more preferred in Australia, UK and New Zealand while more universities prefer TOEFL over IELTS in US and Canada.
IELTS Registration Process
Make sure to keep your passport handy at the time of registration as you need your passport number at the time of registration. Apart from this, you also need to carry your passport on the test day. IELTS Registration can be done in easy steps:
Step 1 – Find your nearest IELTS test location. With more than 1,600 IELTS test locations in over 140 countries, there is bound to be one near you.
Step 2 – Register for your IELTS test .You can register and pay online or download an application form to print, complete and submit to your local test centre.
Step 3 – Once your application has been processed, your test centre will send you a written confirmation of the date and time of your test. The Speaking test, however, can be completed up to a week before or after the other tests.
Those below 18 years of age need their parent or guardian to book the test for them. Once the registration is complete, your test center will send a written confirmation to you informing about the date and time of your IELTS test.
Don't forget to provide a copy of your valid identity document. You will also need to present the same identity document on the day of the test.
Exam fees for the IELTS test is: 375 AUD / 2170 RMB
IELTS Cancellation Fees
If you cancel your IELTS application more than five weeks before the test date, you will receive a refund with a 25% administrative fee cut. If you cancel the IELTS exam less than five weeks ahead of the test date, you will receive no refunds .In case you fail to appear for the test, then also you will not receive any refund. Those who can produce a medical certificate within 5 days of the test date can receive the refund after deducting the local administrative cost of 25%.
IELTS Important Dates
The British Council and IDP IELTS are the two official conducting bodies of the IELTS Exam. The IELTS test is available multiple times throughout the year. Candidates are advised to book an IELTS Test Date that is most convenient to them, keeping in mind about their university admissions date. Students looking to appear for the IELTS test are advised to choose an exam date 3-4 months before their application deadline, to avoid any last-minute error. With flexible exam sessions conducted atleast 4 times every month, students should find it easy to adjust exam dates for them.
On Test Day
A lot of work and preparation goes into your IELTS. On the test day however, it is important that you stay cool, calm and collected. Here are some tips for you as to what you should do on test day!
Be prepared, double check the time and date of your test and allow plenty of time to travel to the test centre because if you are late, you may not be allowed to take the test. TRIPLE check to see if you have the right identification documents with you. If you arrive with the wrong ID, you WILL NOT be allowed to take the test.
Relax and try to remain calm at the test centre. If you start to feel worried, take some deep breaths to help you calm down.Work calmly, focus on the questions, don't rush your answers and you will do your best.
Read the IELTS rules and regulations before the test so you understand them. You'll find these in the IELTS application form. If you have any questions our friendly centre staff are there to help. Listen to the supervisor carefully and follow the test day instructions.
Switch off your mobile phone and any other electronic devices. You will be asked to place all of your personal belongings outside the test room.
The Listening, Reading and Writing tests take 2 hours 40 minutes and there are no breaks between each section of the test.
Make sure you are prepared and have something to eat and drink beforehand. You will not be allowed to take food into the test room. You will only be allowed to take a drink in a transparent bottle.
When you get your test papers, read the instructions on the cover page first before writing anything. Don't lose points for careless mistakes because you haven't read the question properly.
And most importantly, Watch the TIME!!
How is the IELTS Scored?
IELTS is designed so as to test a persons English proficiency. Your total IELTS score will be the average of the band scores from the individual four sections. Your score will be the average band of all the four sections, which will be a total score of 1 to 9. An university admission generally requires an IELTS Test Score of 6 or above.
How to get your IELTS Exam Result?
Once you are done with the IELTS, then comes your wait for the result. The good thing about these exams is that the results are usually declared within a course of 14 days. For computer based exams, your result will come in about a week. You can simply login with your ID, password, passport number, and test date information to view your result. From the time of declaration of result, your results will be available online for the next 28 days. From the time you obtain your IELTS results, your IELTS score is valid for two years.
The table mentioned below shows individual IELTS band scores and what they mean.
| Band score | Skill level Description |
| --- | --- |
| 9 Expert user | The test taker has fully operational command of the language. Their use of English is appropriate, accurate and fluent, and shows complete understanding. |
| 8 Very good user | The test taker has fully operational command of the language with only occasional unsystematic inaccuracies and inappropriate usage. They may misunderstand some things in unfamiliar situations. They handle complex and detailed argumentation well. |
| 7 Good user | The test taker has operational command of the language, though with occasional inaccuracies, inappropriate usage and misunderstandings in some situations. They generally handle complex language well and understand detailed reasoning. |
| 6 Competent user | The test taker has an effective command of the language despite some inaccuracies, inappropriate usage and misunderstandings. They can use and understand fairly complex language, particularly in familiar situations. |
| 5 Modest user | The test taker has a partial command of the language and copes with overall meaning in most situations, although they are likely to make many mistakes. They should be able to handle basic communication in their own field. |
| 4 Limited user | The test taker's basic competence is limited to familiar situations. They frequently show problems in understanding and expression. They are not able to use complex language. |
| 3 Extremely limited user | The test taker conveys and understands only general meaning in very familiar situations. There are frequent breakdowns in communication. |
| 2 Intermittent user | The test taker has great difficulty understanding spoken and written English. |
| 1 Non-user | The test taker has no ability to use the language except a few isolated words. |
| 0 Did not attempt the test | The test taker did not answer the questions. |
Colleges Accepting IELTS
The IELTS exam is necessary for many international colleges and universities, specially for International students since it is proof of their English Proficiency. It is also essential for professional organizations, schools, colleges, and ay form of workplace. This test will clearly monitor the use of the English language of the aspirant at work, study, which reflects how the aspirant will manage communication abroad. It is the most popular English language test with more than 3 million IELTS exams are taken every year.
The IELTS exam score is accepted in more than 140 countries including UK, Australia, New Zealand, USA, and Canada. Whether it is for study, work or immigration, you can sit for IELTS and with a good score apply to your favorite country. It is advisable to check the university/country requirements for IELTS before sitting for the exam to have a clear objective of how much score you should get as a bare minimum to get into an university. Your IELTS score WILL affect how the university perceives you and if you will be a good fit to the university.