WorkStudy regularly organises adventure tours of Perth as a fun way for people to meet, visit multiple Perth landmarks and learn about Western Australia from our experienced Tour Guide. We take care of the transportation, accommodation, games and activities on the tour so that you can just relax and enjoy the ride.
Upcoming tour – Monkey Mia  (Sat) 24/09 – (Tues) 27/09    Click on the poster below for more information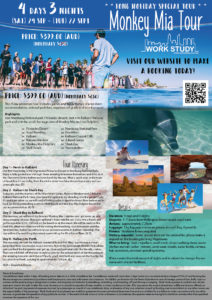 Fill in the contact form below with your details to enquire or book yourself a seat for our upcoming tour. Places are extremely limited and at this amazing promotion price, seats will definitely run out fast. So get in early to secure your place today!